Dependable, High Quality Ground Transportation throughout Indiana and Chicagoland.
Bloomington Shuttle
Shared ride airport shuttle from Bloomington to Indianapolis and back.
Private car Service
Reserve Indianapolis airport car service or as-directed chauffeur service.
Charter Bus Rentals
Get a quote for charter bus rentals and corporate shuttles and accounts.
Welcome to
GO Express Travel
GO Express Travel provides superior, convenient, and affordable ground transportation services throughout Indiana and the Midwest. You can expect us to deliver the highest quality express travel service available in our industry. We have what it takes to impress the most discriminating customers and we maintain and update our fleet regularly.
We offer shared ride airport shuttle services for boarding in Bloomington, IN or for boarding at IND Airport – making it the convenient choice for traveling from Bloomington to Indianapolis.  Additionally, for those who prefer a private ride, we offer Indianapolis airport car service or private car service that can be reserved hourly for transportation to Chicago, Indianapolis, or other locations throughout the Midwest.
GO Express Travel also provides Charter Bus Rental services that can meet your needs for any occasion. Luxury buses can be chartered to take you anywhere in the continental United States for any length of time. When transporting our customers, we can serve as few as a couple enjoying a romantic evening, or a convention numbering in the hundreds.
What services do you provide?
GO Express Travel offers shared ride Bloomington shuttle and non-stop shuttle service between Bloomington and Indianapolis Airport (IND). Private car service can be reserved for point-to-point airport transfers or booked hourly for special occasions. Groups and businesses can book charter bus rentals for events, corporate shuttles, conventions, and more.
How much does it cost?
Rates vary based upon service selected, vehicle selected, the number of passengers, and the distance.
Click here to check rates
.
Please note: Our best rates are available online. Reservations booked over the phone will incur a separate administrative fee.
What is the shuttle schedule?
View the Bloomington Shuttle schedule for service between Bloomington and IND airport.
Where do I find your shuttle at the airport?
The airport shuttle picks up at the Ground Transportation Center located directly across from baggage claim area on the lower level of the main terminal in Zone 1 at Indianapolis Airport.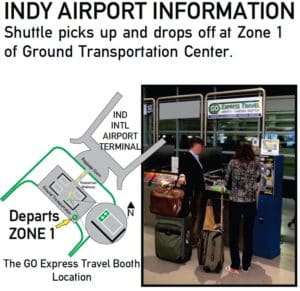 What are your hours of operation?
Our office hours of operation are Monday – Friday from 8:30 am – 5:00 pm.
Visit the Bloomington airport shuttle page to view the current schedules, check rates, and confirm availability.
 Choose GO Express Travel for Airport Transportation from Bloomington to Indianapolis.
"Many thanks to you and the team at Go Express for your charter bus in support of our Big Ten Business Officers meetings here at IU Bloomington. Thanks also to Josh Galyan for getting the group around campus on their tour, to/from dinner, etc. All our guests had a really good experience in Bloomington and enjoyed the beauty of our campus in springtime – and Go Express was an important part of helping them to experience that."
"I had a really good experience with GO express travel on a recent trip to University of Indiana. I stayed at Biddle Hotel at the IMU and the service is basically door to door from the Indianapolis airport. The drivers are polite, there's plenty of room for luggage, the pick-ups are on time and we even got to the airport early on our return trip Sunday morning. Reasonably priced too. Would definitely take again."
"I would absolutely recommend this service to anyone and everyone who ever asks me for a shuttle company. The employees are polite and will go out of their way to help you. I lost my cell phone and when I called after hours to inquire if they had found something they we kind and assured me that if they had it, they would do everything they could to get it returned. I received an email letting me know it was found and that they would drop it at my hotel for me."